f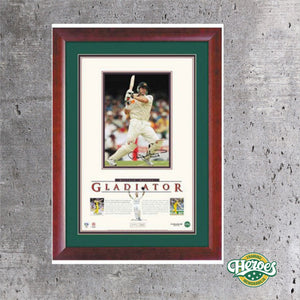 Cricket – Matthew Hayden Signed Lithograph 'Gladiator'
Matthew Hayden's sporting life has become one of the all-time great revivals in cricket history.
From dominant first class player and occasional international, he has re-written his Test match and one day international history and carved out a record that is one of the most imposing in world cricket. He has taken the power-game to another level with demoralizing battering-ram assaults on opposing attacks in stadiums around the world.
The commanding way in which he has done that has fired the imaginations of sports lovers everywhere… stadiums become arenas with echoes of the Colliseum as he wields the bat like an axe hewing wood … or a sword – smiting great blows against his bowling foes. Punching drives, wrenching pulls and lacerating cuts and the body armour of a tight defence have become the weaponry of Australia's own cricketing gladiator, Matt Hayden.
Gladiator celebrates Matthew Hayden's remarkable batting performances. Officially endorsed by the ACB and the ACA, each edition of Gladiator is individually hand-signed by Matt Hayden.
Individually hand-signed by Matthew Hayden

Independently authenticated by PriceWaterhouseCoopers and accompanied by a Certificate of Authenticity

Limited Edition: 500

Unframed Size: 600 mm x 400 mm 

frame may vary