f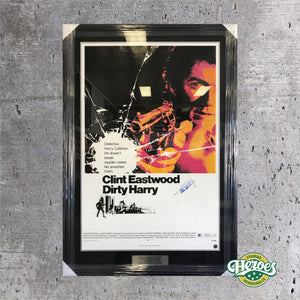 Dirty Harry Poster - signed by Clint Eastwood
Clint Eastwood aka Inspector "Dirty" Harry Callahan
Dirty Harry (1971) starred Clint Eastwood as Harry Callahan.
Harry tracks serial killer Scorpio (loosely based on the Zodiac killer).
Eastwood's iconic portrayal of the blunt-speaking, unorthodox detective
set the style for a number of his subsequent roles,
and its box-office success led to the production of four sequels.
The "alienated cop" motif was subsequently imitated by a number of other films.
At the beginning and end of the film, Callahan corners a criminal and says,
"You've got to ask yourself a question: 'Do I feel lucky?' Well, do ya, punk?"
Framed size approx 84 x 121cm