f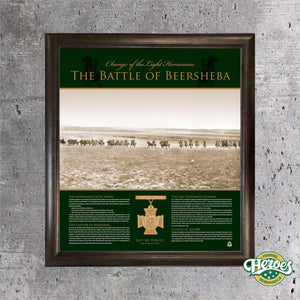 THE BATTLE OF BEERSHEBA PRINT
This Beautiful Piece of Australian history is to honour our heroes which served our country in War. This item is strictly limited and is of the highest standard possible.
The print has to be seen and read to be fully appreciated. The title heading and sub heading as well as many other parts of the print have also been bronze foiled. The print has a gloss finish applied to the main image and two fantastic watermark images of the light horse in the top left and top right corners of the print which makes this print look spectacular. A copy of the letter from the soldier who took the photo accompanies each print. 
This item is absolutely a must have for any fans of Australian or even any memorabilia collectors.
We Will Remember – Lest We Forget 
Limited Edition of 1917 units in the edition

Print has been endorsed and licensed by the Australian RSL

The Victoria Cross has been embossed and bronze foiled

The text on the print tells the story of the light horse and the Battle of Beersheba when 800 ANZACS defeated 4000 Turks. 

Print size measures aprox: 800 mm x 700 mm

Please note frame can vary