f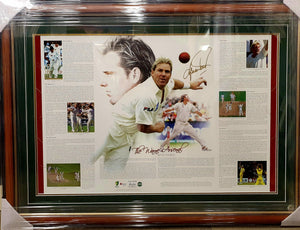 Shane Warne "Arsenal" Signed & Framed Limited Edition Lithograph



Ever since Shane Warne first stepped onto the World Cricket stage he was able to bamboozle batsmen with his uncanny bowling ability. Now that Shane Warne has retired from an illustrious Test Cricket career, cricket fans- not to mention batsmen the world over- are left to reminisce as to how Shane became the best bowler the world has ever seen.
In his playing days Shane was always deeply guarded of his bowling repertoire, keeping his delivery secrets close to his chest. What would Tendulkar have given to gain an insight into when Warney would throw up a zooter, or Flintoff to learn the ins and outs of a Warney flipper, or Cullinan to at least have an idea of when to expect a wrong un.
Now in an offering of inestimable significance, Shane has for the first time ever shared with us the chance to discover what the batting world strived to understand.
This stunning new release brings you a never before seen personal insight into the bowling repertoire of Shane Warne, the greatest spinner of all time. Retired Australian Test match cricketer Ashley Mallett has compiled exclusively for this project, the secrets behind the Warne bowling arsenal an in-depth interpretation of Shane's unique and highly effective bowling actions.
We are proud to present you with this very special, personally signed collectable, strictly limited to just 500 in the edition. The Warne Arsenal Six of the Best reveals Ashley Mallett's accurate interpretation of Warne's six variations of spin bowling, also identifying six famed wickets they have claimed, selected by Shane as his most memorable.
Impeccably presented, this historic item is truly a thing of beauty. A detailed account of each of Warne's 6 bowling variations is presented with a photographic story of the Shane Warne Bowling repertoire. Each presentation has been individually signed by Shane Warne to provide 500 fortunate collector's with a truly exceptional opportunity to possess an item of unparalleled significance
Each Shane Warne "Arsenal" Signed Limited Edition Lithograph is;
Limited Edition of 500

Personally signed by Shane Warne

Officially licensed by Cricket Australia

Licensed and certified by PricewaterhouseCoopers – 

Accompanied by a Certificate of Authenticity 

Magnificently presented at a generous framed size of approx 850mm x 600mm

Features an in-depth interpretation of Shane's bowling actions, compiled by Ashley Mallett